B I O G R A P H Y

………..
Born in Leicestershire 1946
At the age of 15 I began four year Graphics Course at Leicester College of Art.
In 1966 I moved to London to pursue a career in the Art World.
After living in London for a few years I returned to Leicestershire.
…………..

W O R K
………….
Magazines – Greetings Cards – Prints – Posters – Audio Books – Jigsaws
Playing Cards – Calendars – Advertising Campaigns – Animated Films
Book Jackets – Adult Books – Children's Books -Personal Work
Artwork is sold at Auction Houses and Galleries Worldwide.
…………

P U B L I S H I N G
…………..
Some Books are based on my ideas and are written and illustrated by myself.
Some Books are based on my ideas and a writer is commissioned to create the words.
Other Books are developed between the writer and myself.
Then some Books are written by an Author and I am commissioned to create the
Illustrations

My first Children's Book – RATSMAGIC – was published in 1976.
The story and the illustrations were created by me and then the writer and playwright
Christopher Logue was commissioned by the Publishers to write the words.
Ratsmagic proved to be a Worldwide success.
The most recently published Book that I have illustrated is 'Who Censored Roger Rabbit'.
A signed Limited Edition was Published in America in 2018.
I have illustrated approximately 160 UK Books.
Many of the Books have been Published as Foreign Language Editions Worldwide.
………………..
A W A R D S
……………………….
1976 – RATSMAGIC
'19th Annual National Exhibition'
Winner of the Gold Medal Award for the Best Illustrated Children's Book.
Awarded by the Society of Illustrators, New York, USA.

1978 – HIRONDELL WINE
D & AD Silver Award for the most outstanding Illustration for an Advertising Campaign.
From the Designers & Art Directors Association – London.
1985 – THE MAGIC INKSTAND
Exhibition of 'Best Designed Books from all over the World'
Honorable Diploma for Exceptional Book Illustration. Awarded from Leipzig Germany.
1985 – THE ENCHANTED WORLD
'27th Annual Exhibition'
Certificate of Merit Award from the Society of Illustrators – New York – USA.
For Time Life Book's Enchanted World Series.
2001 – GNOMES & GARDENS
Overall Winner of the V&A Illustration Awards from the
Victoria and Albert Museum – London – England.
2001 – THE TIN FOREST
Winner of the 'Original Voices Award USA' for the Best Illustrated Children's Book.
Awarded from Border's Books USA.
2002 -THE TIN FOREST
Highly Commended Award from the V&A Illustration Awards
Awarded by the Victoria and Albert Museum – London – England.
2005 – MOONDOG
Nominated for the Kate Greenaway Medal.
2005 – THE TIN FOREST
'46th National Exhibition'
Certificate of Merit Award from the Society of Illustrators – New York – USA.
…………………..

I N T E R V I E W S – F I L M – T H E A T R E
……………..
1971 – ANDERSON'S ILLUSTRATED EXTRAVAGANZA
This was a 60 second 'Self Promotional' Animated Film to showcase my work.
The Film was made for Halas and Batchelor.
1971 – ANIMATED ADVERT FOR DESSA MARGARINE
This was a 30 second Animated TV Advert for a Dutch Advertising Agency.
The Animated Film was created by Halas and Batchelor.
I donated the original Film Footage for 'Anderson's Illustrated Extravaganza' and the
'Dessa Advert' to the National Film and Television Archive at the British Film Institute.
1978 – THE FLIGHT OF DRAGONS – ANIMATED FILM
A Full length (100 minute) Animated Film based on the Flight of Dragons Book was
made by Rankin/Bass, a New York Film Company. I created the Characters and
Backgrounds etc. My Designs were sent via New York to the Animators in Japan.
1983 – TV DOCUMENTARY
A 15 minute Documentary about my Life and Work was filmed at my
City Centre Studio in Leicester. The Programme was called 'Contrasts'
and made by Central TV.
2001 – THE TIN FOREST
A Video of the Book was produced in America. The Story was narrated by
the Actor Jeff Bridges.
2006 – TV DOCUMENTARY
I was interviewed in my City Centre Studio for a Documentary about
the book Gnomes and Gardens. The programme was called ' inside Out'
And was made by the BBC.
2009 – THE TIN FOREST
The National Theatre of Scotland created a Theatrical Performance based
on the Book as part of the Commonwealth Games in Glasgow.
2018 – DRAGONOLOGY – MONSTEROLOGY – OCEANOLOGY
These three books include my work and are part of a series of twelve 'Ology Titles'
which have reached sales of over 15 million copies in 40 different languages.
Dragonology remained on the New York Times 'Children's Best Seller' list
for 76 weeks. Paramount Pictures have bought the option for the Film Rights
and intend to create an 'Ology Universe' on screen and develop the series of
Books into 12 Films.
Oscar Winning producer Akiva Goldman
( 2001 – A Beautiful Mind – & 1997 – Batman and Robin ) will be creating the Films.
E X H I B I T I O N S
ARTS COUNCIL TOURING EXHIBITION IN GALLERIES AROUND THE UK
FEATURING ARTWORK FROM THE AWARD WINNING CHILDREN'S BOOK RATSMAGIC.
THE ANDREW ARCHER GALLERY – BAKER STREET – LONDON
FEATURING ARTWORK FROM THE BOOK RATSMAGIC
THE SOCIETY OF ILLUSTRATORS – NEW YORK – USA

HAMILTONS GALLERY – LONDON
STILLS GALLERY – EDINBURGH – SCOTLAND
THE PENDRAGON GALLERY – ANNAPOLIS – USA
EXHIBITION OF THE ARTWORK FROM THE AWARD WINNING BOOK
GNOMES & GARDENS
AT THE VICTORIA & ALBERT MUSEUM – LONDON
THE ILLUSTRATION CUPBOARD
ST JAMES'S – LONDON
THE IDENTITY ART GALLERY & TWO BLUE EGGS
HONG KONG
EXHIBITION OF 'DRAGONS IN THE DUNGEON'
AT THE CHATEAU DE BELCASTEL – FRANCE
THE CHRIS BEETLES GALLERY
ST JAMES'S – LONDON
THE ROYAL ACADEMY – LONDON
THE OPEN EXHIBITION AT THE LEICESTER CITY GALLERY
ELLERINGTON FINE ART GALLERY – LEICESTER
NEW WALK MUSEUM & ART GALLERY – LEICESTER
THE PENCIL MUSEUM – KESWICK
EXHIBITION OF THE ARTWORK FROM THE AWARD WINNING BOOK
THE TIN FOREST
AT WARRINGTON MUSEUM & ART GALLERY
THE LEWIS ELTON GALLERY AT THE UNIVERSITY OF SURREY
PRIMROSE GALLERIES – LONDON
THE INSTITUTE OF THE PRACTITIONERS IN ADVERTISING
BELGRAVE SQUARE – LONDON
THE SEVEN DIALS GALLERY – COVENT GARDEN – LONDON
NEWARK HOUSES MUSEUM – LEICESTER
CANK STREET GALLERY – LEICESTER
THE LAST RITES GALLERY – NEW YORK – USA
THE ANIMAZING GALLERY – NEW YORK – USA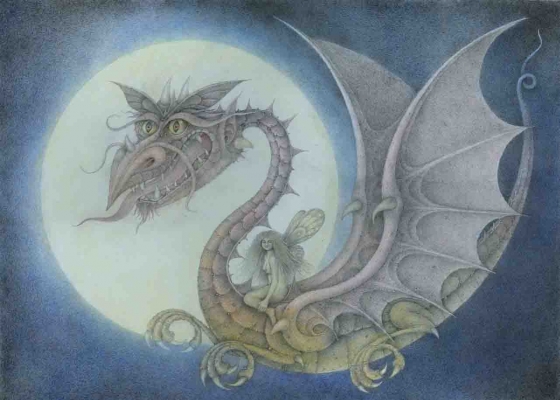 MY TWO RETROSPECTIVE BOOKS –